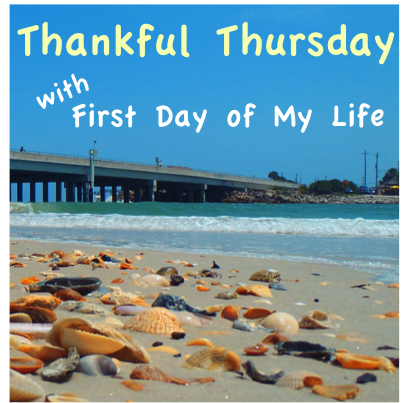 Please show some love & post the button or link back to First Day of My Life :)
Being thankful makes your heart + soul happy...
I'm thankful for for so many blessings...
-happy 300 posts to me!
-beautiful flowers...just because :)
-chapstick that is spf 50 that doesn't taste like sunscreen! #lipshield365
-my old man friend bringing me licorice at work...yum! He is so sweet!
-a friend having a healthy pregnancy thus far!
-the above friend having a fun baby shower last weekend...corny baby shower games are totally the best
-sea turtle season! There have been tons of sea turtle nests all about. Hopefully we'll see one this season...
-3 day weekend this weekend...yes pleeeeease!
-Memorial weekend clothing sales too...crossing my fingers for some nice deals!
-amazing support for my new venture <3
-having lunch with a boardie in St. Augustine over the past weekend...what an amazing friend & a fun time <3
-some great beach time + beautiful beach walks...
-lovely visits with Jake :) (parents' doggie!)
-finding a new favorite snack...oh myyyy goodness...tastes like heaven!! 3 of my favorite things...granola, dark chocolate, coconut...doesn't get much better than that :)
What are my loves thankful for?