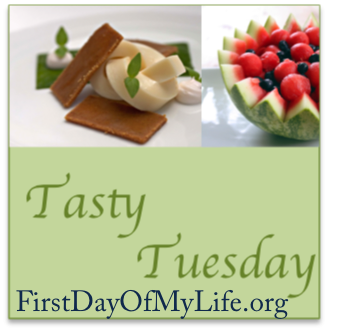 Link up a delicious recipe! Or one you want to try :) Or fun Pinterest finds!
I made this recipe as a Sunday night Sweet Treat and believe it or not - V didn't even know what I made it from ;) It tastes just that good - and it's healthy :D
Black Bean Brownies
Ingredients

:
1 (15.5 oz.) can reduced sodium black beans, thoroughly rinsed and drained - I used Organic!
3/4 cup sugar - I used Raw Sugar
1/4 cup cocoa powder
3 eggs
2 Tablespoons canola oil
1 teaspoon vanilla
1/3 cup dark chocolate chips (optional)
1/3 cup of nuts (optional - I didn't use)


Directions

:
1- Preheat oven to 350 degrees F.
2- Spray an 8×8″ baking dish with cooking spray. (I used a pie dish instead!)
3- Place black beans, sugar, cocoa, eggs, oil, and vanilla in food processor or blender. Pulse thoroughly until smooth and well combined.
4- Pour batter in baking dish. Top with nuts and chocolate chips.
5- Bake for 30 minutes or until the top is dry and edges begin to pull away from the baking dish.
6- Cool completely before cutting.
7- Don't tell those you're serving it to what it's made from - they'll never know :)