Wow. I can't believe it's Thursday already. This week surely flew by.
All in all it has been a pretty decent week. I'm glad I am doing Thankful Thursdays...it helps me remember to take the time to give thanks and to forget about the negative aspects of the week.
Join me in giving thanks & letting the negativity go!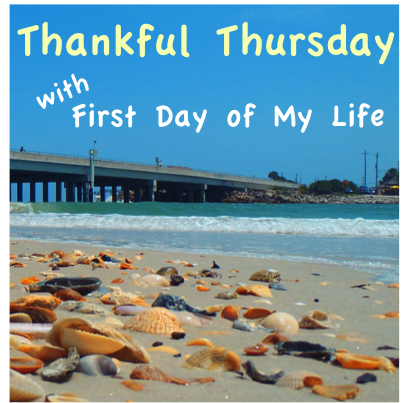 I am thankful for...
V & I created a new blog.
Money Consumer
.

We rate products, restaurants, etc...everything!
What do you think? Will you please follow us? We haven't really "launched" it yet - which you can tell by the lack of following. lol. Pass the word around...pretty please :)

My health!
Hugs & support when I need it.
My new juicer. (I feel like I'm so much healthier with all of the juices I've been consuming...and - yum! If anyone would like me to start putting recipes - I will!
My giveaway being a great success. I have another awesome one coming up very soon, too! Today is the last day - so don't forget to join in on the fun for my
400 Follower Giveaway
!
So far - been being good at the gym this week...woohoo!! Need that beach body for summer, baby!
Nice people :)
Kind words of encouragement and love for you!
Fun mail!! Woohoo!
Little babies! A co-worker has a 16 month old who comes in now and then. I adore watching her grow!
Counting down the days until I can take my little cousin to see the Hunger Games in theaters. YAY!
Being able to do family dinner on Friday night...I get off at 4...yay! (Usually I work until 8.) AND - I have Saturday off! So excited. Don't really have any plans yet - but I always welcome days off!
Having a hand made bracelet :)
Those who have decided to join in on the
Get Lucky swap
! You still have time to join in on the fun!
Getting (free) tickets to go to the
TED show
in Gainesville!
What are you thankful for?