Want to make sure your mental health is positive?


Write down at least five things you are thankful for and link-up with us!


(Studies show that making a list like this will ensure a positive mental health.)





Grab the button if you'd like! :)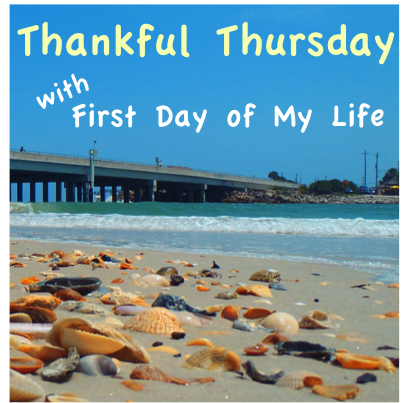 I am so happy to see that Thankful Thursday has been a success and you wonderful ladies enjoy linking up!
I give thanks to God for all that I am blessed with. What if you only have today what you thanked God for yesterday? That question always resonates in my head.

Some of the things I'm thankful for on this gorgeous day that God has blessed me with...
The weather! It's been so dreary on this side of the world the past two weeks or so. We haven't had a sunny day in literally two weeks. Wednesday was our first day in two weeks!! I am not thrilled how hot it is already...but yay - finally some sun shine!
Relaxation. Last Sunday, after church, I got to relax for a bit of the day. (The rest was full of scrubbing the bathroom tub, the grout - I HATE grout, laundry, etc..all that "fun" stuff.) But for a couple of hours I got to sit and just relax with the puppies I am dog sitting for. ALSO - I am thankful for a new hair product that I think I already mentioned. Not sure if you can make it out in this photo or not - but my curls have been pretty happy lately...
One of my darling high school friends made an ap for iPhones/iPods, etc. I'm so proud of him! Over the course of the year, they made what is known as Fuzzy Cubes. If you enjoy playing puzzle games, I highly recommend it! If you decide to download it - let me know what you think!

I am also thankful for the fact that I was able to financially afford to shop and buy some new clothes. Unfortunately, when I tried to pick out what I was going to wear on Monday to work - it seemed like I didn't get anything. And what I did get were shirts kind of like I already had. So what did I spend my money on? Beats me! I hate that. But - regardless - I did spend money and was able to afford it. Thank you Jesus. :)
I'm also thankful for winning some great giveaways the past couple of weeks! I've one Essie nail polish, make-up brush, some great samples (thank you Kate!) and a super cute key chain (thank you Savannah!) One of the samples was of some urban decay primer - I've been debating about the Naked palette - I really like this primer - so I think I might cave and grab the palette! The perfume sample is delicious, too - DKNY. The key chain makes me smile every time I grab my keys.
My cousin's baby was born on leap year! 8lbs, 7oz - 20 inches. I can't wait to meet her!

What are you thankful for?! ox