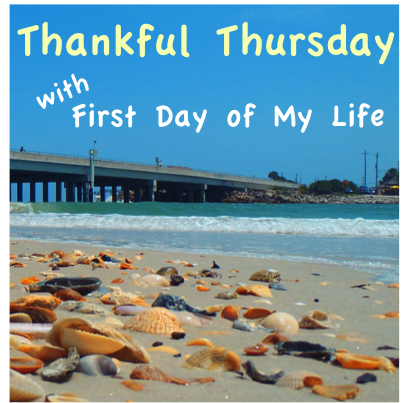 Please show some love & post the button or link back with First Day of My Life if you link-up!
I am so blessed that so many of you take part of Thankful Thursday!! It makes me incredibly happy.
Also, because it is healthy for your mental health! If you write down one positive thought - one memory you are thankful for for that day - you will be a much happier and optimistic person! It will hopefully rub off on those you interact with as well - lets all add more positivity in the world...it already has quite enough negativity!
Please visit as many Thankful Thursday posts as you can & spread some love!
I am thankful for...
-surprise (love) sticky notes that completely make my day - it's the little things!:)
-seeing 2 shooting stars last Saturday night during the meteor shower/Super Moon session!
-taking a late night beach walk during the Super Moon...so gorgeous!
-celebrating Cinco de Mayo by grabbing some Mexican food with a friend for a late lunch on Saturday...it was oh so delicious! I think I found a new mexican joint in town!
-doing great with my workouts for another week! Seeing/feeling extra muscle makes me a happy camper!
-being able to spend Mother's day with my madre (and padre and sister) - I'm looking forward to it :)
-finding a new bathing suit! I am so picky when it comes to shopping in general...so when I came across a bathing suit I liked, I was stoked! I try to only buy strapless so I won't have horrible tan lines.
-my Dancing with the Stars crush is still a contender!
-being blessed with an amazing business opportunity...when it all pans out - cannot wait to share it with you all! <3
-finally trying out some of the EOS chap stick I have heard so much about...I'm not a huge fan of it. It smells great...tastes good - but it doesn't last long enough for me!
-having a delicious desert! yum :)
-usually I am not a big fan of purples...especially nail polish...but the light pink in Essie's spring line, I do like!
-love makes me very thankful :)
-Sundays becoming a wonderful beach day with some great friends!
(post-beach photo at dinner...don't want people getting upset with bathing suit body photos all over my blog...ha-ha!)