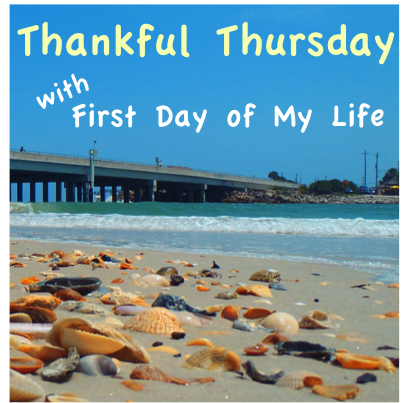 Please show some love & post the button or link back with First Day of My Life if you link-up!
Give your mental health a boost and list what you are thankful for!
-pastel colors lately...they have been my favorite - especially for nail polish :)
-being able to create my own business card and menu for my new JUICE BAR!! Ideally, it'll be opening in less than two weeks. I am so excited about it. To God be all the glory!
-that my family and I were able to hang out for Mother's Day...and I made a killer pulled pork if I do say so myself. ;)
-that it's been raining!! We needed some rain in Florida desperately...we've been on a burn ban.
-having a man who loves me even with my crazy PMS self.
-extra cheddar goldfish and sour gummie life savers - they got me through my cravings!
-making a delicious chicken cordon blue dish on Tuesday...yum, yum! My first time making it - great success!
-randomly being compliments and told how pretty I look while at work :)
-my best friend being my man...instead of having a tv in the living room, we just talk and talk...it makes me oh so happy <3 (sorry for the mushy gushiness of this post!)
-my mom getting an iPhone - 4s. She is going to absolutely love it!! And I'll finally be able to figure out what she's trying to say when she texts me. Hahah ;)
-having a baby shower to go to this weekend AND meeting up with one of my boardies..so excited! We'll be going to St. Augustine...hopefully it'll be nice enough weather where we can walk around afterwards!
-speaking of friends...seeing a friend on Friday for lunch we haven't seen one another in quite some time - he just graduated from law school too!
-Memorial Day weekend coming on up...3 full days off, here I come!!!
-celebrating my god-daughter's fourth birthday with her!
What are you thankful for?