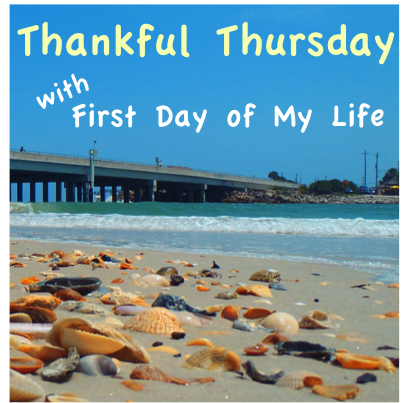 Please show some love & post the button or link back to First Day of My Life :)
-new books to read! I am currently reading "Heaven is For Real" - and loving it!! I HIGHLY recommend it.
-my dad building me some shelves for the juice bar - they look so good & help me out a whole lot!
-having time to get a nice long workout in Tuesday night! Those super long workouts always make me feel so accomplished :)
-homemade peanut butter cookies made by one of the personal trainers...super yummy!
-being able to have giveaways for my beautiful readers!
-being told a meal I recently cooked was delicious :)
-having funds to buy a new iPhone case...yay! It almost makes me feel like I have a new phone!
-
V's cousin being in town from Massachusetts & them being able to bond together
-going to a delicious "fancy" Italian restaurant on Saturday night...oh so delicious!! I had spinach ravioli!
-
although my nails are no longer long (only 5 are!) they were at one point...ALL of them. It lasted about a month. They looked so beautiful. Not sure what happened to caused them to all break.
-all of the conversation about my gender roles post yesterday :) I LOVE when I'm able to engage with my beautiful, talented readers!
-having this beautiful walk to work from my house to the juice bar:
-the weather being kind of perfect on Sunday! Being able to take a nap here...
-being able to hang out with V's grandparents and learning how to make an Italian dish...cauliflower pasta. Not only was it fun - but incredibly delicious...and learned so much about them and their past <3
-getting a love note from my love when I was having a crummy day...
-oh, and a love note at work, too. Okay, so I'm a little spoiled... ;)
What are YOU thankful for?
Don't forget that I am incredibly thankful for all of you wonderful, loyal readers

<3