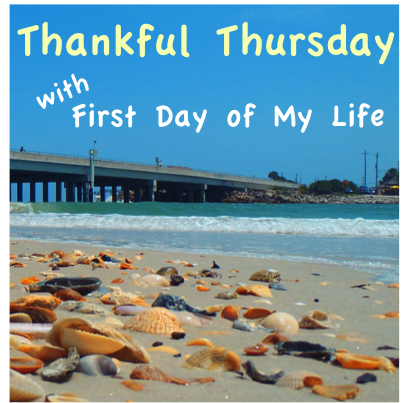 Please show some love & post the button or link back to First Day of My Life :)
I hope you all had a WONDERFUL

I

n

d

e

p

e

n

d

e

n

c

e

D

a

y

! How did you celebrate? I celebrated (after work!) with a full day of fun in the sun with friends and family. Wish my parents could have came (my poor mom is on bed rest because of her knee...she has to have surgery soon...prayers for her, please!)
Even though I've been a bad blogger this week - you guys still love me. I hope! ;)
For all of the friends & family time I've had this week!
Being able to watch beautiful fireworks last night - and if I wanted to - right outside my window. White fireworks are my favorite!
Keeping a positive attitude in crummy situations.
Beautiful weather ALL week and no crazy waves in the ocean...love when it's flat!
Having even just a little bit of alone time and time to unwind after a 15 hour day...even if it's just 15 minutes right before bed.
Painting my toe (and finger!) nails red, white, blue & white "stars" on me...and then V's sister, aunt, grandma, and cousin doing it too :) Love bonding time like that!