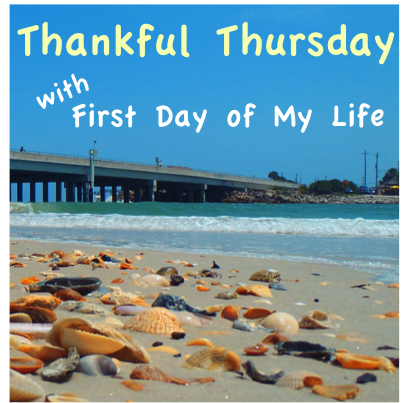 What a glorious day it is, isn't it?
We always have something to be
thankful
for...wouldn't you say?
A lot of people I've spoken to the past week or so have been going through a rough time for one reason or another. Do you know what their coping method is? Being positive and being thankful for the good they do have.
So if you've had a rough week, forget about all the bad and focus on the good...act as if it is the
first day of your life
!
On this beautiful sunny day, I am thankful for...
The weekend. I get to spend it with my two best friends from Stetson. It's alumni weekend...so excited! Friday we're going to hang out & relax. Saturday we're going to be spending at Disney and then going to the block party that night. Sunday, they're going to come back home with me and spend some quality time on the beach! One of them lives in Orlando and has a crazy schedule...the other is going to grad school at Vanderbilt so I don't see either of them nearly enough. I am so excited I can hardly stand it <3
I have some pretty amazing reviews coming up the next couple of weeks...I am so excited! Stay tuned ;)
I've been looking at cruises for May...I want to go on another one and so does V. I cannot wait. OR - if I can find a good deal - I wouldn't mind hopping on a plane to some island & staying at a resort...as long as the price is within my budget. I've been told if I wait a month before I want to go to book, I'll find a better deal...buuuut I'm too anxious and want things set in stone. :D If you have any ideas, let me know!
Draw Something. I'm officially obsessed. Yup. It's sad...but it's so fun - I can't help it!! Play with me!! My user name is -

Firstdayofmylife

:)
God protecting us while driving yesterday...had a very close call and all I can say is WOW - God is so good.
Bike week being over soon so it will be peace & quiet again on A1A. ;)
Another pregnancy announced in the family! My god-daughter's momma is having another. Pray for health for both momma & little one please...only 4 weeks in!
Dinner last night for my sister's birthday! It was so nice to have a family dinner, hang out, relax a bit... & of course, it was fun. <3
Cupcakes my mom made! Funfetti with strawberry icing...Yum!! :)
After dinner, V and I having time to walk around St. Georges street in St. Augustine for a couple of hours...it was a beautiful night!
I don't usually like wearing my hair back but it was humid!
I haven't had one of these since I lived in Scotland.
I got one just for the memories <3
I think it was either a 2 or 3 liter bottle for a pound a half...(almost $2!!)
But a small bottle here costs $5!