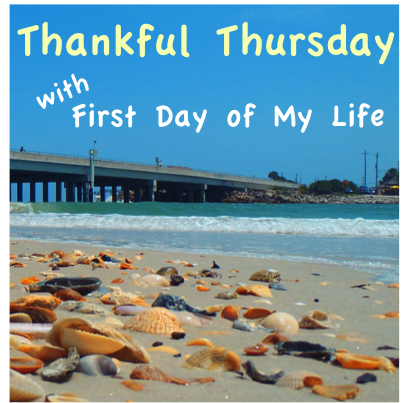 Would love if you grab the button or link back some how :)
I love reading all of the Thankful Thursday posts - they warm my heart!
If you have time - please visit some of the other blogs that have linked up!

There are so many blessings that surround you on a daily basis - just open your eyes & look around.
If you're having a crummy day, I promise you - take a comment to reflect on your day and how amazing is truly is!
smiles from strangers...they never cease to make me smile!
new friends. V & I met 2 amazing girls when we were at the Steeplechase - we wound up having dinner with them and everything. It's so nice to meet people the "old fashioned" way and just get to know each other and learn about one another.
being able to do giveaways! (Don't forget to check it out!)
sales at Publix for Soy Joy bars...so delicious!
speaking of Publix...a local Publix had an accident over the weekend - I'm thankful everyone is okay! (An elderly lady rammed into the front door!)

spending time at the Georgia Aquarium last weekend! So many beautiful creatures.
talk of rescuing a puppy! (YAY!)
beach pedicures!

daily beach walks that has helped increase my beautiful seashell collection and see neat creatures like star fishes..
making sauce for V's birthday. (happy birthday, darling!) I'm also thankful that I can celebrate his birthday with him.
bag pipes! I miss bag pipers SO MUCH. When I lived in Scotland, I hear them daily. While at the Steeplechase over the weekend, there were some Scotsman! (Ok, they probably weren't Scottish, but I'm going to pretend.)
Atlanta weekend trips! Ok, so driving 7 hours for ONE FULL DAY of fun is kind of silly...but it was worth it...
We got a complimentary limo at the hotel we stayed at...riding in style :)
We were probably the best looking couple there. ;)
(Totally kidding. I'm not THAT vain.)
Steeplechase 2012! Fun experience for sure.
The boys being boys...3 musketeers?
They're such beautiful creatures!