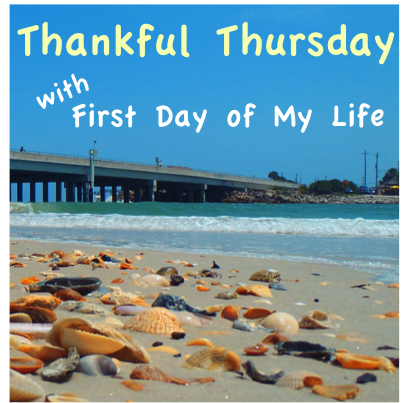 Please show some love & post the button or link back to First Day of My Life :)
I am thankful for...
-new candy! Well...not really candy...they're ginger chews with a little sugar on it...they cut out my craving for candy...and they are really spicy so it makes me not want to eat anything else...ha! Talk about tricking your body ;)
-a Memorial Day bbq with the parents...it was a nice & relaxing time!
-my parents gave me a super cute lucky bambo plant that is in the shape of hearts as a "congratulations" for opening up the juice bar! Very kind & sweet of them!
-knowing, in my heart, that I'll be able to travel the world at some point in my life. I am so excited for that!
-having many friends visit my juice bar! It means SO much to me that they take the time out of the day to stop buy & grab a juice...makes me feel special :)
-the ability to spread the word about blogging courtesies - many of you agreed with me and have been hurt by those not being very kind in the blogging world
-finally being able not to feel bad if my nails aren't painted a pretty color...maybe it's because they are finally a little long so they look nice with just a clear coat of paint. I tried a new french manicure set...it was terrible. Absolutely horrible...peeled RIGHT off, didn't last one bit. BUT - I am thankful I was able to afford to buy it :)
-having company a couple of times during the past week...I LOVE company and being able to host. I can't wait until I move into a bigger place so I can have even more company!
-
having Friday off! Means I can go to First Friday & have a booth of juice!
-the tropical depression Beryl that came through not being so bad for us. When I moved to the beach, I didn't really think of dealing with hurricanes...oops :)
-enjoying the gorgeous beach for a few minutes after work on Saturday...
-being blessed with gorgeous sunsets...
-already having repeat customers... :)
-when it was raining like CRAZY on Sunday from the storm, calling it a pizza night...which hasn't helped in quite a long time! AND - I actually liked the pizza! Usually, I'm not a big pizza fan!
-making new recipes & it coming out delicious...hello, chicken cordon blue!
-being able to celebrate V's sister's graduation with her...so proud & excited for her future! Isn't she beautiful?
-
hanging out at the ceremony with my lovey dovey :)
-
oh, and being able to catch up on my nails...
-
after graduation ceremony celebration...
-hanging out at V's grandparents house for a graduation party pool party the next day :)
So much to be thankful for...sorry if I'm too wordy!
How are YOU ladies doing?
Have a BEAUTIFUL rest of your week <3