Just a few things today that make me happy...
It's

sea turtle season

! A sea turtle made some babies right by our house last night/early this morning. (Check it out, you can see the date it was found on the left post.) I hope we can watch them hatch!
Date night last night - of course, we had some delicious sushi! The one to the left was a "Toasted Almond Roll" and the one to the right was a "Pina Colada Roll." -yum! The other two rolls (not pictured) - "Beauty & the Beast" & "Spicy Tuna"
After delicious sushi, we watched a lightning storm from
our house...so beautiful & kind of romantic, too :)
I am
happy that I am blessed with a wonderful relationship
where we can really enjoy one another's company
<3
Happy 300 followers to Sarah...congratulations to you - I am happy for you! :)
Thanks for the great giveaway opportunity <3
What are YOU happy for today?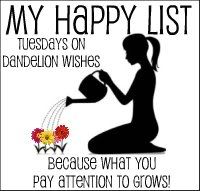 Last minute happy thought: I have Tasty Tuesday going on & there are lots of delicious recipes to try out!