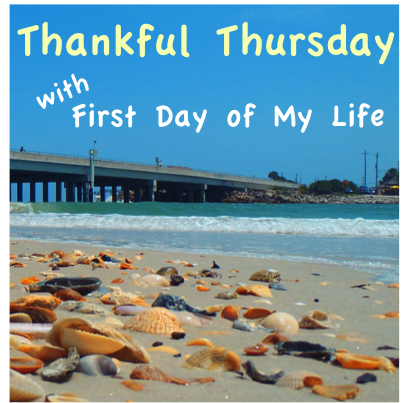 Please show some love & post the button or link back to First Day of My Life :)
-staying on top of my workouts & feeling great!
-being told "if I was 25, I'd be asking you out" - a simple, cute yet sincere compliment :)
-people visiting my juice bar from the gym! It makes me so happy that they take time out of their schedule to grab a juice! (Also family members visiting, too!!:)
-being told from my boss "and that's why I love ya!"
-back rubs! oh how they put me to sleep!
-
the iPhone ap "Bible Is" - I can listen to the Bible during my beach walks <3
-being a part of my first twitter chat (@firstdayofmylif) - I learned so much!
-
being incredibly busy - I love being productive!
-my uncle's girlfriend's healing - she had a stroke on Friday...she had a blood clot in the brain - they said 98% of people do not survive the surgery and she did...amen! Currently she is in coma, but she will beat this.
-soon to be cherry season...yay! Cherries are one of my favorite fruits :)
-having some great ideas for the juice bar for the Fourth of July! The Fourth of July is usually always incredibly busy down by the beach - I'm excited to be able to play a part of it in a business sense
-I wasn't as disappointing in this month's BIrchbox, when compared to other's...some people got Band-Aids...I wasn't particularly thrilled with mine but it wasn't horrible.
-new friendships with my lovely bloggers :)
-finding out you can adopt a sea turtle nest...eeeek!! Can't wait to find out more about it!
-
a friend is going to take the Florida Bar Exam soon - I got a letter from the Florida Board of Bar Examiners give my opinion of my friend...is he trusting, etc. Makes me feel good :)
-peanut butter Ben & Jerry's when I was craving some sweets the past couple of days!
-my beautiful home...