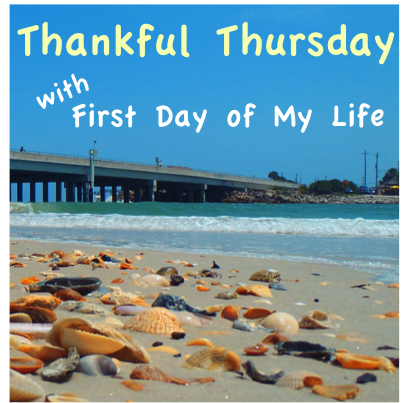 Please show some love & post the button or link back to First Day of My Life :)
I am thankful for SO much...
I'm going to try to do a Thankful Thursday in photos...
BOGO wine at Publix...especially good wine. I love Naked Grape! I also love BOGO's. I've never had this type before - Moscato - but I'm now a fan!
French manicures. Especially gel manicures. I think it looks sophisticated & sexy. OH and manicure time with a great friend!
delicious dinner at a new restaurant in town I've been wanting to try. We got the best spot in the place!
beautiful Florida skies :)
being blessed enough that he is all mine <3
being told by my love how pretty I look.
the homemade carrot cake I made for my dad's birthday coming out stellar! Everyone told me it was the best they've ever had :)
hanging out with my parents and Jake hanging with V...even though it looks like Jake doesn't really have a choice ;)
feeling incredibly blessed.
What are you thankful for?!