I love Thursdays!
I was overwhelmed last week by everyone who participate. When you participate, you make me want to do more link-ups! A lot of people said they are going to start a "thankful list" in their daily planner - that made me so happy...
So please, grab the button & link up your post that tells me what you're thankful for!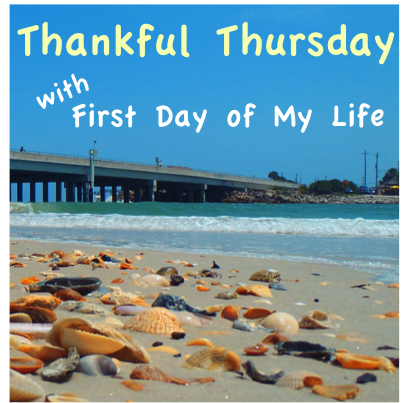 I am thankful for...
the reminder that it is not about the items you have that matter - but the outcome of your life. When you die, you won't be honored by what you had - but what you did with your life, how you made others feel, how much they loved you & how much you loved them.


Having 2 day weekends. I'll have two of those this month! (Usually I work Saturdays so when I have a Saturday AND a Sunday off - I am very thankful!)


A tv from V's grandparents. They got a new one so they gave us their old one. They are so thoughtful <3


A Valentine's goodie bag from his grandparents and a very nice card & Reese's (my favorite!) from my parents. They made my day!


Speaking of Valentine's Day, V surprised me with a cute teddy bear, candy, and card at work for the big LOVE day! He also got me Lady & the Tramp set in the most precious bag. (I had been babbling about how I want to see Lady & the Tramp again...I didn't realize he was actually digesting what I was saying!)


All of your lovely comments about my new blog layout. I know there's still a lot of work to be done
but
I am pretty proud of myself for doing what I've done!


Having the opportunity to go to a
TED Show
...blogged about my experience a couple of days ago. Would love to go to another one!


Remembering how much I enjoy learning & being in a classroom


Boiled peanuts! We grabbed some on the way home from Gainesville...YUM!
Speaking of our road trip, we found this great organic produce place (in the boonies) - we scored on some produce!


I have been to quite a few different countries - I am so blessed + grateful.


Receiving my very first Birchbox! Kind of disappointed but still fun getting mail.


Speaking of make-up, I've worn mascara for the FIRST TIME in two weeks this week. I had an eye infection and was told not to wear anything...so hard not to!


Having the finances to get rid of my old make-up and buying fresh, new! I still need to grab some eye shadow...everyone keeps telling me Urban Decay. Hmm!


I think I've already told you how I am so excited for the weekend of March 17? A college friend is coming to town ALL weekend...she has some great plans...I cannot wait to spend the weekend with her and some other friends. Miss everyone so much! Wish we all lived closer.


The opportunity to share my life with you all + remind myself how incredibly blessed I am! (And learn how blessed you are!)
:)