I must sound like a broken record...but...I'm okay with that.
Keeping track of what you're thankful for will keep you positive and upbeat...give it a try :)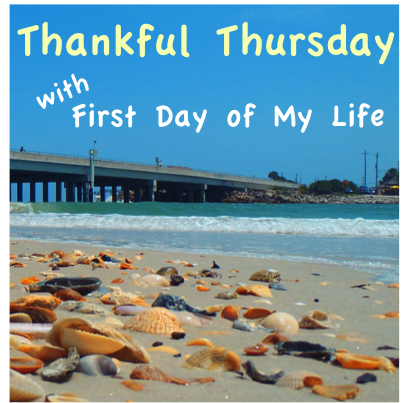 Would love if you grab the button or link back some how :)
If you have time - please visit some of the other blogs that have linked up!
To start - I am thankful for many great blogging opportunities.
Also, all of the amazing blogging friends & sisters in Christ I have made through blogging.
Which reminds me of Mary...she sent me a package that included a nice note, flower seeds (can't wait to plant!), and a journal. I am so excited to start writing in my journal...I think I will write about what I am thankful for :)
Up until today, the waves on the beach have been so calm and pretty much non-existent! V & I went kayaking the other day...it was so fun! I love kayaking. I've never done it in the ocean before...it was a BLAST!

I might have found a new favorite wine. I forgot to mention the price in the post when I was chatting about it - it was only $9.99!
I am thinking of getting the gel manicure home kit. I had a good experience with my salon gel manicure! Does anyone have a home kit? If so - is it comparable??

I am getting tan! I mentioned this last week...but that means less make up...which means better skin. Yay!
Tan also means your teeth look whiter :)
Oh and apparently...more compliments than usual :)
I tried a Doritos (chicken) Taco from Taco Bell...YUM!
I was able to hang out with a childhood friend over the weekend...she helped me with my hair & make-up for Saturday's wedding!

I had an absolute blast at Brittany & Jeremiah's wedding on 3/31/12! Congratulations! What a beautiful life you will have.
Thought this was too cute!
Thanks Jayme & Anna for helping me pic a ring color <3
Us with the Best Man...he probably gave the BEST
speech EVER. No joke. Made me cry :)
Just wanted to show us off again...haha! <3
And yes - that dress was from a Weekend Stash I shared with you all a month or so ago :)
Hope you all continue having a blessed week! Love you!