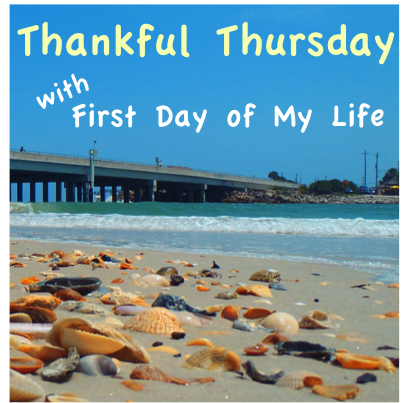 Please show some love & post the button or link back to First Day of My Life :)
Also...I would LOVE it if you visit other blogs that have linked up! Spread the Thankful Thursday love!
I am thankful for
...
everyone's comfort, support, and love when I wrote about my sweet Buddy...thank you for the words of wisdom when dealing with furbabies leaving our lives...
I know I've said it before but my favorite thing about blogging is new relationships...that can cultivate from randomly finding one another's blogs or from blog swaps :)
dark chocolate covered almonds. Need I say more? YUM.
sharing recipes with friends at the gym...I love trying new ones!
being on a roll with working out...oh how it feels so good
being able to hang out with friends I haven't seen in quite some time! Always so great to catch up with them
being told "I look prettier every day." Thanks, V...you're the best <3
fixing 2 toilets at work! Yup. All by myself.
finding the PERFECT protein bar recipe...sales are going great for them at the juice bar!
having funds to purchase new nail polish...heehee!
making a delicious paleo diet!! (and leftovers for lunch...yay!)
Dove chocolate wisdom...goes with the "Thankful Thursday theme" too :D
cherries! I've blogged about this already...but oh my gosh. Is it bad that I went through one bag...about 2 lbs...within...um...a day? Am I going to turn into a cherry? ;)
my home. I am so thankful for my home

<3
Now...what are YOU thankful for?