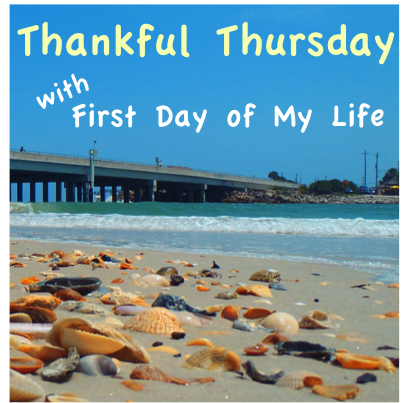 Please show some love & post the button or link back to First Day of My Life :)
I am thankful for...
being able to randomly have dinner with my parents & sister instead of having to plan it a month in advance and then travel a bunch. Such a blessing that we all live (fairly) close to one another!
that tropical storm Debby wasn't as terrible as originally depicted/imagined. I do feel like a vampire though - no sun for about a week! We did need the rain though :)
being able to have a loving man to confide in, wonderful family & great friends when the time comes for it
that V & his grandfather had an amazing time in Miami over the weekend for a big soccer "all star" game. It was the first soccer game for both of them and the fact that they were able to enjoy it together makes it that much better!
my workouts are going great! Woohoo. I see my muscle again ;) Love that feeling.
planning a vacation for the end of July...woohoo...so excited!
the fact that every night I am excited & happy to be blessed enough to come home to V. <3
that I have friends to share yummy & delicious new recipes with! (along with my bloggy friends of course!)
songs that bring you back to the first moment you heard them!
delicious wine. YUM.
a good friend recently getting engaged...so incredibly excited for her! Can't wait to help her plan. AND she said I was going to be in the bridal party <3
discovering dark chocolate covered pomegranate...(!!)
since I have to be at work on Sunday, I am at least thankful I am able to watch church online! Better than nothing :)
that a lovely member at work brought this delicious sweet treat...SO GOOD!! And makes me so happy that they would think of me to bring :)
Now...what are you thankful for?
When I write everything down like this, it makes me feel so incredibly blessed and incredibly happy inside :)