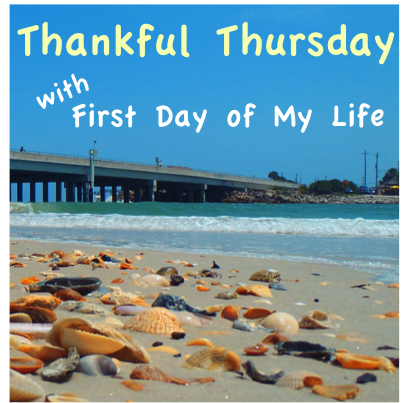 Would love if you grab the button or link back some how :)
Writing down what you are thankful for will make your life happier and stress-free! Going back and reading what you are thankful for will aid in this process as well.
Please visit as many Thankful Thursday posts as you can & spread some love!
I am thankful for

...
-friends who as optimistic for my life's new adventures!
-having a three day weekend for Memorial Day!! I am so excited! Not sure what my plans are, but will be happy just laying by the beach!
-being on top of my workout routines these past two weeks! I'm making myself stay motivated ;)
-new post-it notes! I'm a post-it note queen. I love getting new ones...especially fun, pretty ones!
-making new tasty recipes that come out great!
-hugs. I seriously just love them.
-the fact that the new word on the street is - Junior Seau found dead was obviously big news, being in a Patriots household - all the fans love for him and all the support is touching...please send some prayers his way! <3
-all of your support with my new idea! It means oh so much to me!
-my car being in wonderful condition and not having an issues!
-a boardie possibly coming to my side of the state! I envision a wonderful time together!
-V's team winning their soccer game last Thursday...that means play-offs are tonight!! Here to hoping they kick some major butt!
-friends confiding in me <3 Best feeling!
-
having some layer cake malbec - yum! :)
-breakfasts on the beach! yum :)
-living on the beach means fun times with friends and family! Games of football in the water, waling on the beach, relaxing, having fun :) (not many photos of that so people won't be upset with their beach body on the web:)
Being able to be at this little one's first day at the beach!
-having an amazing time at Relay for Life this year! We won BEST COSTUME - we were dressed as Greek goddesses! Our team raised over $2,000! Thank you ALL for your amazing support :)
Celebrate. Remember. Fight back!
My precious little god-daughter came to visit :)
Our team with my co-workers beautiful Mommy -
she BEAT breast cancer!
Patty (seamstress of our costumes!), Sunday (co-worker),
myself, my momma!
My momma & I :)
Love that she is able to do it with
me every year!